The BOOK STORE

Ultima Online Atlantic Shard: The BOOK STORE,

DeadBob and Lady Tang, Props.
Open Daily in the Same Spot Since 2003.
Your One- Stop Shop for Marked Runes.
Check the Mail Box on our steps for the very latest runes and game information.
The Atlantic player's trusted source for the latest runes.
A small library of currently useful runes makes it easy to find the rune you are looking for.
The Perilous Inquirer

UO Siege Perilous' Most Read Weekly Newspaper!

Read the Perilous Inquirer on UO.Stratics.com
SUBMISSIONS CALL
Stories by Gamers for Gamers
Anthology
Submit to:
Editor<at>ROFLtimes<dot>com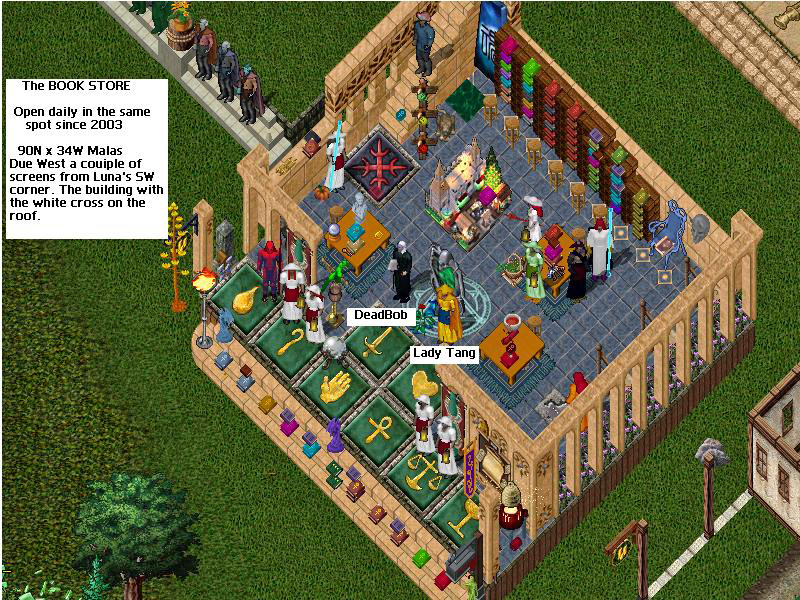 "Remember Folks, at the Book Store, we cheat the
Other
guy and pass the Savings on to
You!"
-DeadBob
HEALTH WARNING
The Ter Mur Surgeon General has determined that the current craze of breast feeding pigeons in the Queen's Park is hazardous to your health.

UO GMs NOT CANNIBALS SAYS UO
UO spokesperson Woot Woot Barney today denounced as "mere speculation" reports that GMs lured players into a Tokuno wooded area for an Iron Chef Competition.
"They were the chefs," Diablo accuses, "And we were the ingredients."
This reporter stared at the veteran player, as he leaned noticeably to the left in the saddle.
"What happened?" I asked.
"It was horrible. Some of us followed runes marked 'Good Food' to a woods. We were jumped by GMs wearing chef's hats & carrying cleavers. They slaughtered several people I knew and popped them into open ovens. Then they danced around adding spices and chanting, 'Kick-it-up-a-notch.' They chased me," Diablo said, "Yelling, 'Get that one! He's already half baked.'"
The big man shifted uncomfortably in his saddle, leaned left again and fixed me with his steely eyes. "I can show you proof," he said. Diablo looked around carefully. Then he dismounted and mooned me. OMG! His left buttock is missing!
"They almost got me," he said. "It was real close, I tell you."
But UO spokesperson Woot Woot, even when confronted with this eye witness testimony, dismissed it derisively, saying only, "Well, that evidence is half-arsed, ain't it?"

NO HELL EITHER FOR HEAVENLESS
Heavenless [FSP!] [SL] has received notification from Hell that he's not welcome there, either.
"Maybe Limbo will take me," the scarred fighter told this reporter. "You don't think I'll havta learn that stupid dance, do you?"
Gamers began playing online using long distant telephone connections. We've been around since the last century. We have stories about those we met playing online games.

"Stories by Gamers for Gamers"
will be an anthology of some of those stories.

We want personal stories. They can be humorous or inspiring or even tragic. They can be about family, friendships, love and and marriage. They can be about anything at all that strikes you as interesting. If you liked it, other gamers can too.

For more details, and to see how else you can participate in this anthology, see our Facebook page:
https://www.facebook.com/groups/932185130543024/